The Sahara Group Foundation, in partnership with the Lagos State Employment Trust Fund (LSETF) and Wecyclers, recently launched two recycling hubs in Isolo and Igando-Ikotun Local Council Development Area (LCDA), Lagos state, under its Go-Recycling project.
The Go-Recycling project which aims to roll out 12 recycling hubs across Lagos state before the end of 2023, is a commendable initiative that is helping to promote a sustainable environment and encourage Lagosians to adopt recycling as an effective and rewarding waste practice.
Recycling, which is the process of breaking down and reusing materials that would otherwise be thrown away as trash, not only benefits the environment but also has a significant impact on the economy. Some significant benefits of recycling include the reduction of pollution in our environment, job creation, the support of a circular economy where many things are a resource rather than waste, and the provision of economic growth opportunities on an individual, community, and society level.
Speaking at the launch of the recycling hubs in Isolo and Igando-Ikotun, Ejiro Gray, the Director, Governance and Sustainability. Sahara Group Ltd explained the importance of the Go-Recycling project. Ejiro Gray stated that "the presence of the recycling hubs in the communities would help transform the communities, as it would inspire residents to adopt a sustainable living mindset, empower them economically by offering them a unique opportunity to turn their waste to wealth, and help support a cleaner, healthier, and thriving environment for today and tomorrow's generations",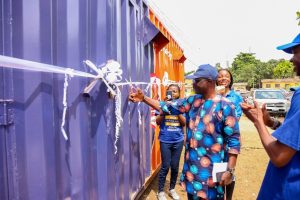 The project's implementation partner, Wecyclers, a Nigerian social enterprise helping to address the challenge of urban waste in the country, through its Chief Operating Officer, Oluwayemisi Lawal, stated that "the process of incentivizing people in low-income communities to capture value from recyclable waste is helping to encourage a growing movement of sustainable minded individuals and communities.
The Go-Recycling project which will no doubt help spark significant interest in recycling among Lagosians, is a powerful representation of the progress that can be achieved when public-private organizations come together to achieve sustainable development goals.
With the rollout of the Go-Recycling exchange hubs, many more Lagosians will begin to see their thrash for treasure and all the many good things that come with adopting recycling as a lifestyle.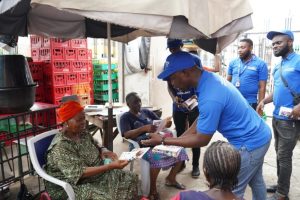 The launch of the Go-Recycling hubs is also a significant boost to the circular economy in Lagos State. This was reinforced at the launch of the recycling hubs in Isolo and Igando-Ikotun by LSETF Director of Programmes and Coordination, Omolara Adewumi, who represented the Executive Secretary, LSETF, Teju Abisoye. Omolara Adewumi stated that "through this initiative, we are helping to empower communities in Lagos with job creation, an opportunity to earn, while also contributing to a greener future".
The circular economy model promotes the reuse of materials and reduces waste generation, making it an ideal global model for sustainable development.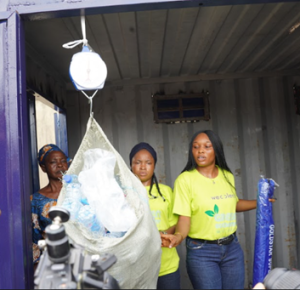 Recycling offers everyone the opportunity to contribute to a sustainable environment by ensuring recyclable materials don't end up in our lakes and landfills. Poorly disposed trash tends to serve as a breeding ground for major diseases, clog gutters, and drainage canals leading to floods during rainfall, and causing land and air pollution.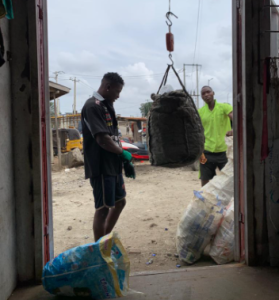 Lagos state with a population estimated at 25 million generates about 12 to 14 thousand tons of waste daily. Which comes to about 4.3 million tons of waste annually. Of that, roughly, 30 percent is recyclable. Protecting and preserving our environment is a collective responsibility. So, choosing to recycle today is a positive step towards promoting a safe and sustainable Lagos for all generations present and yet to come.