We WON!!!
Joining the Sahara Group in February, I looked forward to volunteering with the Sahara Foundation because volunteering has been an integral part of my life for a very long time.
So, when I had the opportunity to volunteer for the Sahara Foundation STEAMers program (which I almost missed due to email configurations, but my curiosity killed the cat ?).
The STEAMers program which is a Science, Technology, Engineering, Arts and math afterschool initiative organized by Sahara Foundation in partnership with STEMCafe,a a non-linear learning centre where kids and young adults through play, explore the amazing world of STEM (Science, Technology, Engineering and Mathematics) through fun interactive activities for them to experiment with amazing creations and ideas that develops lifelong learning and interest in STEM.
I recall my first day at Igbobi College, the secondary school I have been assigned to for this year's program. I was to serve as a mentor to a some of the students and I was so excited to kickoff the journey.
I was assigned to a team of four (4) males from classes ranging from JSSS.3 to SSS.2. And immediately I met them I knew I was about to have an inspiring experience. I introduced myself to my new friends and they introduced themselves to me.
We started off very lightly. Talking about who we truly are. Our hobbies, interests, personal goals, favourite subjects, and why we all signed up to do this in our respective capacity.
This icebreaker exercise allowed all of us relax into the session, that would become our new routine. What jumped at me quite evidently was the student's love for science-related subjects. Something I could relate with totally. They also had great ambitions and were all so passionate about making a positive difference in society.
Well, I guess it's time you meet my squad of Four (4) collectively called 'THE WATCHMEN'. First is Mosese Ayo Mofe . Mofe struck me immediately as a budding innovator. He talked to me about some tools he had built on the side and how he would love to create a significant innovation. Onyeka Njubigbo was quiet and particulatly curious about a lot of things. But what was so impressive to see about him was his ability to identify problems and propose excellent solutions immediately. Onyeka is a good public speaker and he is definitely on his way to making a change in the world. Then we have Chigozirim Maduanusi. Chigozirim silent confidence fills a room. His capability to observe and then offer a brilliant suggestion speaks to his natural ability and his love for science is contagious. Lastly, we have John Ayilo. John was the oldest of the quad and possesss such strong leadership qualities. He was also more reserved and offered compact solutions. He also provided feedback to the rest of the team on their ideas and helped ensured every member of the team did what they were supposed to do.
During our first ideation meeting, the team came up with twenty-two (22) different ideas across different sectors, from agriculture to security to home automation. I marvelled at the extent to which the team expressed their creative and imaginative potential. Eventually, we settled on one of our Home Automation ideas.
Working with the STEMCafe facilitators, my team and I worked on our innovation for the next 6months. With support from STEM Facilitator of STEMCafe, we were provided tools to design our solution and bring our idea to life.
Fast-forward to the Nigerian National Demo Day Finals; we competed with over seven teams from two schools in Nigeria. My team was nervous; they felt the project wasn't complete enough. When the showcase was about to start, Onyeka and Mofe walked up to me and expressed their anxiety. I encouraged them and told them that in my line of work, we sometimes have to present and convince stakeholders about our solutions that aren't complete. I told them to be confident, talk about the solution, the process it took to build it, highlight the vital parts and mention the work-in-progress.
Honestly, we all weren't expecting the results. But, when the Watchmen was announced the winner of the Nigerian National Demo finals, I remember doing a victory dance. I was so excited for my team to win, and you could see the sense of pride on the faces of the Watchmen.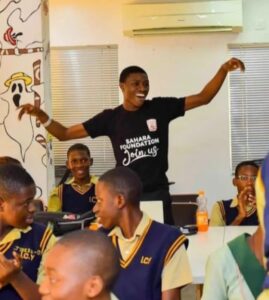 After the national finals, the Watchmen geared up again for the Regional Demo Finals. We were to compete against students from Oshodi Junior High, Lagos, St Nicholas Schools, Nairobi, Olympic High School Nairobi, Kenya, and St Peters, Nyaala, Uganda and Kyambogo College.
Unfortunately, I couldn't follow this presentation because I was somewhere with little connectivity.
So, when I could access the internet and found out the watchmen had emerged overall regional winners, my excitement could not be contained. "We won, We won, We won" I screamed as loud as I could. Realizing I was in a room full with people, I composed myself and kept whispering "WE WON'…?.
This experience has reinforced in me that my purpose is bigger than myself. Working with the watchmen, I felt a sense of responsibility to guide these young brothers and help stir them on the path to greatness. Without the victory, it would still feel like a win. But with the victory, they got to taste the fulfilment that comes when hardwork is rewarded.
So, thank you Sahara Foundation for giving me this opportunity to be part of something bigger than myself. I was able to make an impact and share a victory with these imaginative and intelligent young men from Igbobi College, Yaba.
And to my watchmen, thank you for bringing so much verve into my life. Your dreams are valid and I am proud of you four for what you have achieved. I know I will look back one day at this piece, when you all are doing great things in whatever path you choose and say i was fortunate to have had this experience with these great men.
So, never stop believing in yourselves and I will always be here cheering and supporting you all on your journies. To Mosese Ayo Mofe, Onyeka Njubigbo, Chigozirim Maduanusi, and John Ayilo, thank you for inspiring me and I wish you all the best always.
Daniel Iyiola
Mentor of the Winners of the Sahara Foundation STEAMers Regional Demo Finals.