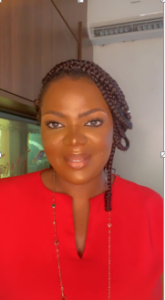 Tell us about yourself (Name, job title, location, and length of stay  with Sahara)
My name is Damilola Abiodun Adekiya. I work as QHSSE Manager, L'AIR CENTRUM, IKEJA, and I have spent eleven years in Sahara.
Using three words, describe how you feel to be named Sahara Foundation volunteer of the month?
Honored, thankful, and Motivated.
What is the most exciting thing about being a volunteer?   
Contributing, and knowing that my presence means something to someone, to me, and the society.
With a brief story, please share with us your most impactful volunteer experience. 
This must be the Sahara Foundation STEAMers programme 'Vision Boarding Exercise' where got to help the students create their personal and career vision boards. This experience was significant for me because to see these young minds articulate their goals, dreams, and vision in a tangible and aesthetically pleasing way, with so much hope, verve, and belief was truly inspiring. And guess what, when I got back home from this exercise, I created my own vision board and this wonderful piece of motivation which is glued on my favourite mirror, serves as a daily reminder for me of where I am headed.
What role do you think volunteering can play in solving Africa's prevalent social issues? 
Volunteering, like social activism, can be purposeful and change orientated. For example, volunteering can be directed at influencing agenda-setting, policymaking, decision-making and representation. It will promote the social space deficiency in Africa by contributing to personal transformation, whereby individuals change their beliefs, perspectives, and day-to-day behaviours Describe the Africa of your dreams and share with us what everyone on an individual level can do to
Sahara Foundation supports development in 'Access to Energy' and 'Sustainable Environments'. What cause(s) are you most passionate about and why?
I would say both as Energy is sustainable if it meets the needs of the present without compromising the ability of future generations to meet their own needs. 
Describe the Africa of your dreams and share with us what everyone on an individual level can do to ensure we attain this.
The Africa of my dream is an Africa where life is better, richer, and fuller for everyone, with opportunity for each according to ability or achievement. I envision an Africa distinctively characterized by good governance, democracy, respect for human rights and the rule of law.
What are your hobbies and interests outside of work? 
Listening to music, pop and jazz, and binging on Quora!
Lastly, tell us a fun fact about yourself no one in Sahara knows ?
Hmmmm…. How do I say this now ?. Well, guess everyone now knows that I love cooking!!!