In recent years, there has been a growing emphasis on the need to incorporate Science, Technology, Engineering, Arts, and Mathematics (STEAM) education into classrooms worldwide. According to research by Brookings, it is a workforce skilled in STEAM that will enable Africa to overcome crippling development challenges including climate change, food insecurity, inequality, and poverty.
The Sahara STEAMers Programme, an afterschool STEAM initiative that aims to build a new generation of social innovators, with creative confidence in Africa, is at the forefront of this educational revolution.
Launched in 2021 in partnership with STEMCafe, a non-linear learning center, the programme is designed to nurture creativity and critical thinking among African students while providing them with access to world-class labs, immersive learning experiences, and practical classrooms to help inspire them to become problem solvers in their communities.
The programme which runs in 4 African countries including Nigeria, Kenya, Uganda, and Tanzania, with 8 schools, and 200 students involved, is making remarkable strides in transforming traditional education approaches and preparing African youths for the challenges of the 21st century.
The programme's first edition which took place in 2022,saw the 'Watchmen' team from Igbobi College, Lagos, Nigeria, emerge as the overall regional champion with an invention called the 'Silent Digital Alarming Device'. A solution which helps to address security challenges, by preventing unauthorized access into designated buildings thereby helping to combat home and commercial burglaries in our environment.
Finishing in second and third places at the 2022 regional competition were the 'Ziggo' team from St PetersSecondary School, Kampala, Uganda, with their 'Plant Watering System' invention which helps to address theissue of food insecurity in Uganda and the 'Venus Inventors' team from Olympic High School, Nairobi, Kenya, who developed an 'Ultrasonic Distance Sensor Alarm System' that helps combat insecurity and promote energy efficiency.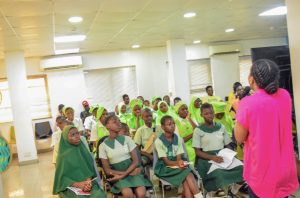 The programme which runs during the academic school year is divided into weekly in-class workshops, the brainstorming and problem ideation session, the vision boarding exercise, and the national and regional Demo competitions. Working with STEMCafe trainers and Sahara Group Foundation volunteers, the students, working in groups are encouraged to identify societal issues around their communities and develop innovative solutions to these problems using technology.
They are also exposed to state-of-the-art state of the art equipment, learning materials, and technology whichhelps to facilitate their learning and advance their creative mind.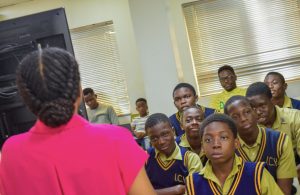 At the end of the in-class and practical sessions, the students then go on to participate in a vision boarding exercise where they identify their career and personal goals, before engaging in a competitive national Demo competition where they present the prototype designs of their innovative solutions. The top three teams from the national Demo competitions in all participating countries then face off in a regional Demo competition, where an overall regional winner is chosen.
The Core Pillars of the Sahara STEAMers Programme
As the name implies, the Sahara STEAMers programme focuses on training students further in subjects and courses relating to Science, Technology, Engineering, Arts, and Mathematics.
Science: The programme emphasizes inquiry-based learning and practical experimentation to encourage students' curiosity and passion for scientific exploration. Through various experiments carried out, they are able touse data collected through observation and experimentation to help solve a problem and/or create a solution.
Technology: The STEAM programme helps to introduces students to cutting-edge technologies, such as coding, robotics, and virtual reality, which helps them to improve their ideas, as well as strengthen their skill in today's world were technology-related skills are in increasing demand.
Engineering: Students are taught the creative application of scientific and mathematical principles used to plan, build, and manage systems that allows them design practical solutions which helps to solve real-world problems.
Arts: The arts component of the programme plays a vital role in stimulating creativity and imagination. The ability to use design-thinking, communication, and artistic skills to bring innovations to fruition is a critical part of problem-solving.
Mathematics: Sahara STEAMers ensures a solid foundation in mathematics, promoting logical thinking, analytical skills, and numeracy allowing the students to use these abilities in an assortment of real-world scenarios and prepare them for the future global labor market which is increasingly dynamic.
The Benefits and Impacts of the Sahara STEAMers Programme:
Technology Literacy: The Sahara STEAMers programme helps participating students to bridge the gap between theory and practical applications, allowing students to become more versatile in the face of rapid technological advancements.
Problem-Solving Ability: The programme empowers students with the problem-solving skills and confidencerequired for the future world they will lead. The students can approach problems confidently and trust in their ability to develop solutions.
Enhanced Creativity: The Sahara STEAMers programme teaches students to think 'outside of the box' to explore innovation. This creative mindset allows them to utilize a wide variety of thought processes and skills to improve situations and solve problems.
Improved Critical Thinking: Through project-based learning and practical methods, students develop critical thinking skills, enabling them to analyze problems and design appropriate innovative solutions.
Promote Collaboration: The programme is set up to promote collaboration among students. Working in groups, they share ideas and responsibilities; relying on each other's strength to achieve success.
Career Opportunities: The Sahara STEAMers Programme helps to equip students with the skills that are highly sought after. The STEAM workforce plays a key role in the sustained growth and stability of our world. Therefore, equipping these students with the relevant skills for today and future labour market is critical to a sustainable future.
Gender Inclusivity: The Sahara STEAMers programme helps to showcase female participation in STEAM career roles. Thereby breaking down the popular gender–stereotype-belief attached to STEAM courses. This is inspiring an increased participation of females, offering an inclusive learning environment for all to thrive.
Societal Impact: STEM subjects are focused on providing solutions to the concerns society has today. The Sahara STEAMers programme is helping to raise social awareness and empower the next generation of African social innovators with the mindset and skills they need to address the environmental and social challenges in the continent.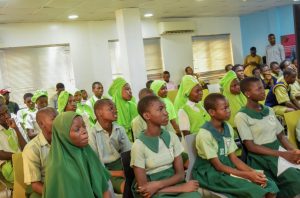 The Sahara STEAMers Programme stands as an example of how innovative educational initiatives can revolutionize learning experiences and prepare students for a rapidly changing world.
By fostering creativity and critical thinking among African students, this programme is nurturing the continent's future leaders and problem solvers. And as the programme continues to expand and inspire, it is set to pave the way for a brighter, prosperous and sustainable Africa and the world at large.